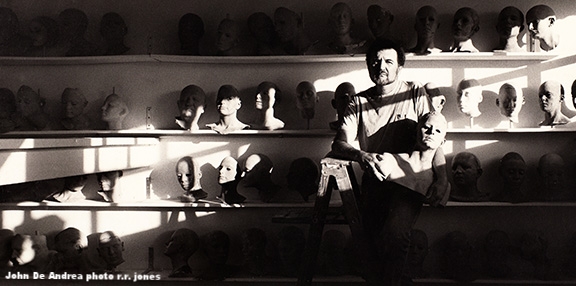 American. Born in Denver, Colorado, 24 November, 1941.
Educated at the University of Colorado at Boulder, 1961-1965, B.F.A. 1965.
Awarded an art scholarship in 1966, studied at the University of New Mexico at Albuquerque
1966-1968. Currently lives and works in Denver, Colorado.
"A premiere sculptor of the american photo realist artist group in the 1970s, John DeAndrea established a new level of literal realism within the ongoing tradition of figurative sculpture." (The Color of Life, Ed. Roberta Panvanelli, J. Paul Getty Museum Publications and the Getty Research Institute, Los Angeles, 2008)
DeAndrea graduated with his Bachelor degree in (1965) from Colorado University, Boulder, continuing on to the University of Mexico for graduate school with an assistantship. At that time, Abstraction dominated the scene and was mostly all that was taught in the universities. Mesmerized by the human form, DeAndrea, at first, painted Abstract figurative work to fit in with the times, while secretly developing a body of work which debunked the mainstream, working from life casting and developing techniques to create hyper-realist sculpture. As he emerged from his schooling, and unveiled his private works, he joined OK Harris at the beginning of a new movement of realist works, exhibiting with the likes of Chuck Close, John Salt, Richard Estes, Ralph Goings, Robert Bechtel and Duane Hanson at the beginning of their careers. This movement quickly took hold, skyrocketing them to success and notoriety. Chuck Close and John DeAndrea being the first American artists to show in Paris at the Center Georges Pompidou.
Live casting was a completely unexplored technique at the onset of the 1960s, at first working with traditional plaster casts, John DeAndrea was seeking a greater realism and more definition and so he developed a method of silicone casting that enabled him to capture more precise detail. This spawned a unique and innovative body of work never before seen by the world, sculptures so real that at first sight one might mistake them for a real person.
Starting with fiber glass positives, evolving to Polyvinyl Resin and then onto bronze, DeAndrea's earliest works were painted with automotive paint, later evolving into acrylics and then oil. Using real human hair and cast hair, constructing his own glass eyes and painting in eyes, he has explored a variety of techniques as suited to the individual piece. Over the course of 50 years and 350 sculptures, DeAndrea has refined his technique to capture the human spirit. It is DeAndrea's incredible passion and drive to create the most realistic effects possible that has propelled mold making and sculpture in the 20th century.
Some of DeAndrea's greatest accomplishments include: publication as a featured artist in Janson's History of Art (3rd. ed.); Taschen's Realism and Sculpture: From Antiquity to the Modern Day; The New York Post "Art in the Artist"; Art in America, "A New Realism in Sculpture" and "The Verist Sculptors: Two Interviews"; inclusion in the permanent collections of several Art Museums throughout the world, including Chicago Institute of Art, Ludwig Museum in Colon, Germany, and the aforementioned Center Georges Pompidou in Paris; exhibitions at the Venice Biennale in 1978 and 2013, Documenta V and Documenta VII, Kassel, Germany;, the Whitney Museum of American Art, the Getty Villa, the Museum of Contemporary Art, Chicago; and a retrospective at the Kunst Haus Vien in Vienna, Austria which featured 45 pieces on loan from all over the world.
John DeAndrea currently exhibits with George-Phillippe & Nathalie Vallois Gallery in Paris, Louis K. Meisel Gallery in New York and the Winfield Gallery in Carmel, California.
John DeAndrea: Early Years
As a little boy John DeAndrea grew up in Denver, Colorado, living with 14 relatives in a cinder block garage converted home, consisting of Aunts, Uncles, Cousins and his primary family, sharing a bed amongst four boys. It was during this time that John DeAndrea contracted Polio. Spending about 4 months in the hospital, quarantined for part of the time, John was one of the lucky ones. The polio only affecting his left arm, the nerve damage of which was so severe that the polio rendered this arm disabled except for use of the muscles in his hand. An avid lover of animals, with sheep and horses tied up in alleyways, John DeAndrea was always an inventive and creative young boy, as well as athletic despite his impairment. He had his first spark of interest in art in high school, when he received (a city wide award) for a monotype print, which opened the door in his mind for him to pursue art.
Son to Italian American parents, his father made money where he could, working as a steelworker, in a packing house and eventually owning his own Italian Restaurant and Bar. Despite his working class upbringing, DeAndrea aspired to be an artist, facing ridicule amongst his family, he became the first of his large extended family to attend college. He was accepted into CU Boulder in (1961) to study Fine art, where he took his first figurative drawing class. It was at that moment that he fell in love with the figure.
BORN

November 24, 1941, Denver, Colorado

EDUCATION

1968 University of New Mexico at Albuquerque
1966 Awarded art scholarship
1965 University of Colorado at Boulder, BFA

SOLO EXHIBITIONS
2018 Galerie George-Philippe & Nathalie Vallois, Paris, FR *
2015 Starring Linda: A Trio of John DeAndrea Sculptures, Denver Art Museum, Denver, US
2011
Bernarducci.Meisel.Gallery, New York, NY
2006
Bernarducci.Meisel.Gallery, New York, NY
2004
Bernarducci.Meisel.Gallery, New York, NY
2001
Modernism, San Francisco, CARon Judish Fine Arts, Denver, CO
1998
O.K. Harris Works of Art, New York, NY
Ron Judish Fine Arts, Denver, CO
Modernism, San Francisco, CA
Bernarducci.Meisel.Gallery, New York, NY
1996-97
John DeAndrea, Denver Art Museum, Denver, CO
1993
ACA Galleries/Munich, Munich, Germany
1991
ACA Galleries, New York, NY
1989
Carlo Lamagna Gallery, New York, NY
1988
Galerie Isy Brachot, Brussels, Belgium
Galerie Isy Brachot, Paris, France
1987
Carlo Lamagna Gallery, New York, NY
1986
Galerie Isy Brachot, Paris, France
1985
O.K. Harris Works of Art, New York, NY
Galerie Isy Brachot, Paris, France
1982
The Aspen Center for the Visual Arts, Aspen, CO
Foster Goldstrom Fine Arts, San Francisco, CA
O.K Harris Works of Art, New York, NY
1981
Tortue Gallery, Santa Monica, CA
1976
O.K. Harris Works of Art, New York, NY
1973
O.K. Harris Works of Art, New York, NY
1972
Wilmaro Gallery, Denver, CO
1971
O.K. Harris Works of Art, New York, NY
1970
O.K. Harris Works of Art, New York, NY

SELECTED GROUP EXHIBITIONS
2018 Lust Der Täuschung, Kunsthalle, Munich, Germany
Like Life (Sculpture, color and the body), The Met Breuer, New York, US *
A Luta Continua. The Sylvio Perlstein Collection, Hauser & Wirth, New York, US * People, Jeffrey Deitch, New York, US
I Am a Problem, Museum fur Moderne Kuntz, Francfort, DE
Hyper Real, National Gallery of Australia, Parkes, AU *
Hyperrealism: Sculpture, Kunsthal, Rotterdam, NL *
Stage of Being, Museum Voorlinden, Wassenaar, NL *
2017 Monumental, Everton Museum of Art, Syracuse, US Gosh! Is It Alive?, Museum of Modern Art, Arken, DK
2016 Desire, Larry Gagosian and Jeffrey Deitch, curated by Diana Widmaier-Picasso, Art Basel, Miami, US
Hyperrealist sculpture 1973 – 2016, Museu de Bellas Artes, Bilbao, ES * 2015 Paulin, Paulin, Paulin, Galerie Perrotin, Paris, FR
John DeAndrea & Ariel DeAndrea, The Vernon Filley Art Museum, Pratt, US * 2014 Sorry, we're closed, Brussels, BE 2013 Le Palais Encyclopédique (curated by Cindy Sherman), 55th Venice Biennale, Venice, IT
Hyper Real, Museu de Belle Artes, Bilbao, ES
2011 Our Own Directions: The Louis K. and Susan P. Meisel Collection, Eileen S. Kaminsky Family Foundation at MANA Art Center, Jersey City, US
2010 Hyper Real, Mumok, Vienne, AUT
Stand Still, Bernarducci Meisel Gallery, New York, US
Real: Realism and Diverse Media, Imago Galleries, Palm Desert, US
2009 Figure 8, Bernarducci.Meisel.Gallery, New York, US
2004
Convincing Illusions, Louis K. Meisel Gallery, New York, NY
Photorealism: Painting and Sculputre, Nassau County Museum of Art, Roslyn Harbor, NY
2001
Figure it Out, Louis K. Meisel Gallery, New York, NY
2000
The Photorealists, Holmes Gallery, Center for the Arts, Vero Beach, FL
1999
7 Women 7 Years Later, Andrea Rosen Gallery, New York, NY
Three Realist Sculptors: George Segal, Duane Hanson, John DeAndrea, Nassau County Roslyn Harbor, NY
1997-98 Faces & Figures, Nassau County Museum of Art, Roslyn Harbor, NY
1997
An Assessment of Contemporary Figuration, David Klein Gallery, Birmingham, MI
Feminine Image, Nassau County Museum of Art, Roslyn Harbor, NY
1993
Summer Group Show, ACA Galleries, New York, NY
1992
Images of Man: Figures of Contemporary Sculpture, Japan Traveling Exhibition:The Isetan Museum of Art, Tokyo; Daimura Museum, Osaka; Hiroshima City Museum of Art, Hiroshima
1988
Figure it Out: Visual Body Language, Helander Gallery, Palm Beach, FL
1985
Fortissimo! Thirty Years from the Richard Brown Baker Collection of Contemporary Art, Museum of Art, Rhode Island School of Design, Providence, RI (traveling)
The Classic Tradition in Recent Painting and Sculpture, Aldrich Museum of Contemporary Art, Ridgefield, CT
1984
Ten Years of Collecting at the MCA, The Museum of Contemporary Art, Chicago, IL
Games of Deception: When Nothing is at it Appears, Artisan Space, The Fashion Institute of Technology, New York, NY
Image, Effigy, Form: Figurative Sculpture, University Art Museum, California State University, Long Beach, CA
Figurative Sculpture: Ten Artists/Two Decades, University Art Museum, California State University, Long Beach, CA
In Celebration, Tortue Gallery, Santa Monica, CA
1983
Faces Since The 50's: A Generation of American Portraiture, Center Gallery, Bucknell University, Lewisburg, PA
Contemporary American Realism, Foster Goldstrom Gallery, Dallas, TX
1982
Homo Sapiens: The Many Images, Aldrich Museum, Ridgefield, CT
Real, Really Real, Super Real, San Antonio Museum of Art, San Antonio, TX (traveled to Indianapolis, Tucson, and Pitts­burgh)
Documenta V1I, Kassel, Germany
1981
Contemporary American Realism Since 1960, Pennsylvania Academy of the Fine Arts, Philadelphia, PA
1980
The Reality of Illusion, Denver Art Museum, Denver, CO (traveling)
Illusionism, O.K. Harris West, Scottsdale, AZ
1980
Radical Realism, Center for the Arts, Muhlenberg College, Allentown, PA
1979
Seven on the Figure, Pennsylvania Academy of the Fine Arts, Philadelphia, PA
1978
Venice Biennale, Venice, Italy
Selected 20th Century American Nudes, Reed Art Gallery, New York, NY
1977-78
Illusion and Reality, Australian National Gallery, Canberra, (toured Australia)
1977
The Nude: Avery and the European Masters, Borgenicht Gallery, New York, NY
No Thing But Nudes, The Whitney Museum of American Art, New York, NY
New Realism, Jacksonville Art Museum, Jacksonville, FL
Art '77, Hamilton College, Clinton, NY
Contemporary Figuration, University Gallery of American Art, New York, NY
1976
Aspects of Realism, Rothman's of Pall Mall traveling exhibition, Stratford Art Gallery, Ontario, (toured Canada 1976-78)
1976
Super Realism, Baltimore Museum of Art, Baltimore, MD
Aspects of Realism, Centennial Museum, Vancouver, Canada; traveling exhibition
Perspective 1976, Freedman Art Gallery, Albright College, Reading, PA
American Salon des Refuses, Stamford Museum and Nature Center, Stamford, CT
1975
Photo-Realist Art, Edwin A. Ulrich Museum of Art, Wichita State University,
Wichita, KS
1974
Hyperrealistes Americains/Realistes Europeans, Centre National d'Art Contemporain, Paris, (toured Europe)
New Photo Realism, Wadsworth Atheneum, Hartford, CT
The Real and Ideal in Figurative Sculpture, Museum of Contemporary Art, Chicago, IL
Living American Artists and the Figure, Pennsylvania State University, University Park, PA.
Museum of Contemporary Art, Chicago, IL
1973
Amenkansk Realism,Lunds Konsthall, Sweden.
Realism Now, Lunds Kunsthall, Lunds, Sweden
Grands Maifres Hyperrealistes Americains, Galerie des Quatre Mouvements, Paris, France
The Super-Realist Vision, DeCordova Museum, Lincoln, MA
The Male Nude, Emily Lowe Gallery, Hofstra University, Hempstead, NY
1972-73
Realist Revival, New York Cultural Center, New York, NY
1972
Documenta V; Kassel, Germany
Sharp Focus Realism, Sidney Janis Gallery, New York, NY
Hyperrealistes Americains, Galerie des Quatre Mouvements, Paris, France
Recent Figurative Sculpture, Fogg Art Museum, Harvard University,Cambridge, MA; traveling exhibition
Art Institute of Chicago, Chicago, IL
1971
Biennale, Paris, France
Radical Realism, Museum of Contemporary Art, Chicago, IL
Kunstmarkt, Cologne, Germany
Old Realism, New Realism, Dannenberg Gallery, New York, NY
1970
Annual Exhibition, TheWhitney Museum of American Art, New York, NY
1970
Radical Realism, The Museum of Contemporary Art, Chicago, IL

PERIODIC PUBLICATIONS

American Art Collector, November 2006, pp. 148-151, ills, col.
Art in America, "The Verist Sculptures: Two Interviews: Duane Hanson and John De Andrea" with J. Masheck,
(New York), November/December 1972.
Art in America, "The Verist Sculptors: Two Interviews", with Duncan Pollock, November/December 1972, p.98-99.

BOOKS AND CATALOGUES

Three Realist Sculptors: Segal, Hanson, de Andrea, Nassau County Museum of Art, Roslyn Harbor, NY; Text: Franklin Hill Perrell, 1999.
Faces & Figures, Nassau County Museum of Art, Roslyn Harbor, NY; Introduction: Constance Schwartz, 1997.
Feminine Image, Nassau County Museum of Art, Roslyn Harbor, NY; Introduction: Constance Schwartz. Franklin Hill Perrell, 1997.
John De Andrea, exhibition catalogue with essay by Dr. Martin H. Bush, ACA Galleries, NY, 1993.
Images of Man: Figures of Contemporary Modern Sculpture (1970-1990), exhibition catalogue with essay by Dr Martin H. Bush, Isetan Museum of Art, Tokyo, and Daimaru Museum, Umeda-Osaka, Japan.
John de Andrea: Sculptures 1978-81, exhibition catalogue with essay by Philip Yenaivine, Aspen, CO, 1982.
Neue Formen des Realismus by Peter Sager, Cologne, 1974
Aspects of Realism, exhibition catalogue, Stratford, Ontario, 1976.
Hyperrealistes Americains/Realistes Europeens, exhibition catalogue, Paris, 1974.

PERIODICALS

"Real Dead" by Richard Kalina in Arts Magazine, December 1991.
"De Andrea", by Jean-Louis Ferrier in Le Point, (Paris) September 1985.
"Hyper-Realistic Dreikiang", in Du (Zurich), July 1979.
"Remarks on the Nude", by Carter Ratchif in Art International, March 1977.
"Neutral Style", by Edward Lucie-Smith in Art and Artists (London), August 1975.
"New York Commentary: Realism Again", by Dore Ashton in Studio International, (New York), March 1972.
"Look Alive! ", by Rosalind Constable in The Saturday Review, April 1972.
"Direct Cast and Sculpture", by Carl Goldstein in Arts, January 1972.
"The Corn Realist as God", by Robert Hughes in Time, January 1972.
"A New Realism in Sculpture", by Grace Glueck in Art in America (New York), December 1971.
"Downtown Uptown, Not 10th Street", by John Perrault in The Village Voice (New York), December 1971.
"Art in the Artist", by Emily Genauer in The New York Post, December 1971.
"They Only Look Like Photographs", by Daniel Wells in The Chicago Tribune, May 30,1971.
"Exhibition of Radical Realism Chilling", by Don Anderson in the Chicago Today, June 13,1971.

SELECTED COLLECTIONS

"Bir New York Galericisi: Ivan Karp", Gencsanat, (Turkey), May 1998
Everson Museum of Art, Syracuse, NY
Neue Galerie, Aachen, Germany
Center Georges Pompidou, Paris, France
The Denver Art Museum, Denver, CO
J. B. Speed Art Museum, LouisviIle, KY
Museum of Contemporary Art, Chicago, IL
Portland Art Museum, Portland, OR
Scottish National Gallery of Modern Art, Edinburgh, Scotland
Bayly Art Museum of the University of Virginia, Charlottesville, VA
Virginia Museum of Fine Arts, Richmond, VA
University of Wisconsin, Madison, WI
Malcom Forbes, New York, NY
Sydney and Frances Lewis Foundation, Richmond, VA
Saul Steinberg, New York, NY
Ted Pillsbury, Fort Worth, TX
Mr. and Mrs. Paul Hoffman, Boca Raton, FL
Countess Suzanne Agnelli Rattazzi, New York, NY
Mrs. Morton Neumann, Chicago, IL
Dr. Peter Ludwig, Germany
Mr. and Mrs. Smith, St. Tropez, France
Mrs. J. Morgan, Shawnee Mission, KS